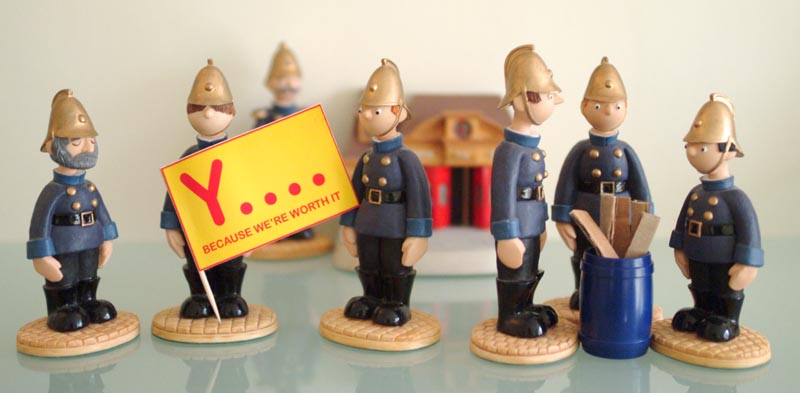 http://www.thisishampshire.net/hampshire/archive/2003/02/03/BASINGSTOKE_NEWS_NEWS05ZM.html

basingstoke gazette 3rd feb 2003

HAMPSHIRE firefighters are to be balloted on whether to strike in protest at the sacking of Basingstoke fireman Simon Green.

Fire Brigades Union (FBU) general secretary Andy Gilchrist told Hampshire FBU members on Thursday that all eyes were on Hampshire, as eight out of 10 Hampshire branches voted for the ballot at an extraordinary union meeting.

Their resolution read: "Unless the notice of dismissal under capability procedure issued to a member in Hampshire is rescinded immediately, then the membership in Hampshire will be balloted for industrial action."

The ballot is expected to be held in the next few weeks, but no firm date has been set.

The vote came just days before firefighters across the country went on strike again over pay.

Mr Green, who was sacked in December, has had a troubled relationship with his fire service employer since he was suspended from duty in April 1999 after he tried to organise a union meeting.

He was reinstated 19 months later, before an employment tribunal found in his favour, and on Thursday, union members told The Gazette a remedies panel awarded him £17,500 in costs from Hampshire fire and rescue service.

But Mr Green has not worked since October 2000 because of ill-health.

Mr Gilchrist told Hampshire officials at Thursday's meeting that they should not think they are alone in their protest over Mr Green's sacking.

He said FBU members, branches, brigades and regions across the UK have already pledged their support and the FBU National Executive Council has offered their unconditional support.

Basingstoke FBU representative Lud Ramsey said: "Mr Gilchrist said he was very concerned about what's happening, and that all the chief officers are looking to see what's going to happen in Hampshire."

The FBU say that Mr Green was sacked on grounds of capability, and that this is not a recognised or agreed method for dismissal from the UK fire service.

But Hampshire fire service spokesman Mike Gates said he was not sacked on capability grounds.

"It's all to do with the policy of absence management, which has been agreed with the unions for years," he said. "Other people have been dismissed for the same reason before."

National, regional and Hampshire FBU officials were due to meet Basingstoke firefighters on their picket line this morning to support the new ballot.



---

Firefighters save the day for theatre lover
by Charis Mastris


Firefighters Lud Ramsey (left) and Simon Foster (right) have come to the rescue of Erika Heywood and her partner Martin Schroder


STRIKING firefighters have come to the rescue of a wheelchair-bound theatre lover who had been refused entry to Basingstoke's Haymarket theatre because of the fire strike.


Erika Heywood, who suffers from debilitating motor neurone disease, was turned away from the theatre during the November fire strike because management were worried that without fire cover it would be too difficult to get wheelchair users out quickly in case of an emergency.


The 47-year-old theatre fan and her partner Martin Schroder booked tickets a month in advance for another Haymarket production tomorrow - and then watched in dismay as firefighters announced on television that they would be striking again that day.


Martin, 29, who lives with Erika in Kenilworth Road, Winklebury, Basingstoke, said: "We were very upset that the two times there were plays we wanted to see in the last few months, we couldn't go because the firefighters were on strike.


"The manager of the Haymarket was very nice and helpful, but he said there was no way we could go." But when The Gazette told the firefighters about Erika's predicament, they offered to step in and agreed that some of them would move their picket from outside the fire station to outside the theatre so that they can carry Erika out if there is an emergency.


Firefighter Lud Ramsey, who will be one of the Green Watch firefighters accompanying Erika, said: "As soon as we heard that a disabled person needed our help, we were quick to respond.


"We were very happy to be able to do this. It is the type of thing we would do whether or not we are on duty."


Haymarket manager Tim Wills said he would be delighted to review his risk assessment in light of the firefighters' offer. He added that two other wheelchair users had wanted to see the play so the firefighters have agreed to be on standby for them as well.


A beaming Erika told The Gazette: "I was really pleased that they have said they will come and help me. The theatre is one of the few pleasures I have left."



---
http://www.thisishampshire.net/hampshire/archive/2003/01/10/BASINGSTOKE_NEWS_NEWS10ZM.html


ANGRY firefighters are seeking to ballot colleagues across Hampshire about strike action after a leading Basingstoke union activist was sacked just five days before Christmas.
At an emergency branch committee meeting held on Tuesday, union representatives from across the county agreed to consult their colleagues about holding a strike ballot over the dismissal of Simon Green (pictured left), who has been off work with depression for just over two years.
Fire Brigades Union general secretary Andy Gilchrist - who has been at the centre of the national fire pay dispute - is planning to come to Hampshire this month to talk to firefighters about Mr Green's sacking, and leading union members will vote whether or not to ballot for a strike on January 31.
The FBU has also lodged an appeal against the controversial sacking with Hampshire's chief fire officer Malcolm Eastwood and has vowed to take the matter to Hampshire's fire authority if this appeal fails.
Mr Green has had a troubled relationship with his fire service employer since he was suspended from duty in April 1999 after he tried to organise a union meeting.
He was reinstated 19 months later, before an employment tribunal found in his favour. But he has not worked since October 2000 because of ill-health.
The father-of-two said he had no idea he was going to be sacked when he was called to a meeting with Hampshire fire service's deputy chief fire officer John Bonney in Winchester on December 20 last month.
Mr Green, who lives in Andover, but had been based in Basingstoke, told The Gazette: "I thought we were going to discuss my future, that they thought they'd made a mistake and were going to try to start a reconciliation process. Then they sacked me. It was a massive shock - I have been a firefighter for 22 years."
Fire service spokesman Mike Gates confirmed that a firefighter was dismissed in December, "for excessive levels of absenteeism, after continuous levels of sick leave" - but he would not confirm that it was Mr Green. Referring to the way the sacking was carried out, he said: "We have more than one procedure.
"This is not a disciplinary matter, so it's dealt with by our sickness and absence management procedure as agreed with the unions, and that depends on the circumstances relating to any particular case."
But Peter Miller, acting executive council member for the FBU's southern region who also attended the meeting, disputed the reasons for Mr Green's dismissal.
Mr Miller said: "Mr Green was sick because of stress and anxiety - he went to his GP, and then went off sick.
"How is it that they have sacked him when there is medical evidence to suggest that he should be given ill-health retirement, while an officer involved in suspending him in was given ill-health retirement?
"I believe he has been sacked for being a trade union official, and for carrying out trade union duties."
Mr Green is due to hear the result of a remedies hearing, which will decide on compensation from the fire service as a result of the tribunal case, in the next two weeks.
He said: "The report from the hearing will lay down the facts of what happened, and about my illness as they are considered legally.
"Why couldn't the fire service have waited two weeks to read that report before making any decision on my future?"
---

a forum article written by "siggy" for meridian TV web site:

It never ceases to amaze me that working class people who are low paid moan about other workers fighting for a living wage. If you are low paid that is YOUR fault for accepting it. The people who should be the target of their gripes are the ones paying the pittance. They get fat on the money YOU earn for them. Nobody has ever earned a decent wage by staying in work and talking because at the end of the day while you are still working and talking they are still making money out of you and at the same time putting the wheels in motion to deprive you of any fair settlement. If 40% is so unreasonable how come MP's voted it for themselves? Was it because that was a just and fair amount for the level of work and responsibility? Who would you want if your house was on fire with your family inside or in the mangled wreckage of a car? John Prescott? Tony Blair? Ian Duncan Smith?

When have you EVER heard Managing Directors or Chairmen of large business's criticize another Fat Cat for doubling his salary and giving himself a £250,000 bonus. I haven't heard one yet. They don't say I think it's all wrong him getting £1.5 million and I have to struggle along on £750,000. Just look at the fat cats at Air Traffic Control at Swanwick who have just given themselves hundreds of thousands of pounds in bonus payments - for what? Just ask WHY?

How come the government can find billions of pounds to wage war on the innocent peoples of Iraq and Afghanistan (neither of which has attacked or threatened us) but not to pay firemen. Who would you want if your house was on fire with your family inside or in the mangled wreckage of a car? A nuclear submarine perhaps or the Durham Light Infantry maybe? Just ask WHY?

It is because the rich who have seen their hills of money turn into mountains as the tax burden has been taken off their shoulders (because they can't afford it) and placed on the shoulders of the working people who can afford it as they are awash with money due to all these well paid jobs we have.
There used to be a lot more money in the Exchequer than there is now due to all the " inefficient" national companies we used to own, such as all the Gas Boards, Electric Boards, Water Boards, British Telecom, British Airways to name a few, who poured billions of pounds in profits into the government coffers. The only trouble was it was being spent on health, education and welfare of the for the good of a majority of the British public and not the minority of rich people who don't use public services like the rest of us. The only way they could divert all this cash into their own pockets was by buying them at knock down prices on the pretext they were "inefficient" which is what they did.

The firemen are fighting for ALL of us to not have the indignity of having to go cap in hand to bosses to try and extract a living wage. To besmirch them is an insult to us all.



---

http://www.thisishampshire.net/hampshire/basingstoke/news/BASINGSTOKE_NEWS_NEWS8.html

Bragg backs strike in a very vocal manner
by Paul Hobson

Singer/songwriter Billy Bragg came out in support of the firefighters' strike at his concert at The Anvil


SUPPORT for Basingstoke's firefighters was boosted by singer/songwriter Billy Bragg who joined their picket line ahead of playing a gig in the town.

Bragg, 45, a prominent socialist who came into the public eye following his support of the miners' strikes in 1984/1985, spent some time chatting with local firemen outside their station in South Ham last Thursday.

He again showed his support during his concert with his band, The Blokes, that evening at The Anvil.

Prior to playing his song Power To The Union, he told the local audience: "The firefighters deserve our support for bringing the issue of low public service pay to the public.

"They have left us with a choice - do we want an Americanised society where everything is for sale, or do we want a welfare state where education and health services are free for all?

"The firemen are at the sharp end of society. Whenever they enter a burning building, they are risking their lives, yet they are representing us.

"They deserve to have a decent income. They also deserve our support, so please give generously and help them enjoy some sort of Christmas."

Several firefighters were in attendance at the concert, and cheered loudly after this backing.

Firefighters also manned a union stall at the Anvil, selling T-shirts, handing out leaflets and showing videos of the FBU campaign, both contemporary and historical.

Local fireman Simon Green said: "Billy and The Blokes offered some brilliant things, and thanks go out to his management team for their energy and support."




---

http://www.thisishampshire.net/hampshire/basingstoke/news/BASINGSTOKE_NEWS_NEWS2.html

Fireman's anguish
by Anita Smith


Firefighter Paul Burton holds a shattered plant pot at his ransacked home


THE home of a Basingstoke fireman has been ransacked by vandals.

Full-time Basingstoke firefighter Paul Burton, who is also a retained firefighter in Grayshott, where he lives, believes the incident was motivated by the recent eight-day strike.

"My house was broken into but nothing was stolen - it was just ransacked," he said. "It was obviously just deliberate vandalism. I can't say it was definitely to do with the strike, but it seems a bit odd that they broke in and just smashed everything up."

Paul was called by a neighbour on Sunday at 6.55pm, telling him his maisonette first floor flat had been broken into.

On his return, he found the burglars had smashed the kitchen window to gain entry into the property.

Paul's microwave had been hurled across the kitchen and chairs swung around.

In the living room, the window was damaged and the intruders had attempted to kick the 32in television off its stand.

Paul, who was about to move out of his flat, is now staying at his girlfriend's home for his own safety until he can move into his new place.

Anyone with any information about the incident should call Crimestoppers on 0800 555 111.







---

ARMY SET TO STRIKE

In the face of industrial action by members of the armed forces, the New Labour government has announced that the Fire Service will, as an interim measure, carry out military operations in Iraq.

The army, who have demanded a 40% pay adjustment on the basis that their job has become rather more technical since 1945, will begin strike action next Thursday unless a compromise pay deal can be agreed in the meantime.

A Government spokesman said they while it was possible that some modernisation had been carried out in the Army since 1945 there was no proof that any additional skills were needed in the Falkland, Gulf or Balkans wars.

The Spokesman said that some, like the Falklands were not even 'wars' but conflicts. This he said had nothing to do at all with the fact that war pensions are not payable to widows if someone dies and it is only a conflict not a declared war!!

It is understood that the army will spend their time standing around bonfires made from obsolete stocks of SA80 rifles which don't work; and parts of Apache helicopters and Nimrods aeroplanes to save the £115,000,000 storage and repair costs.

Crack Fire Service personnel, highly trained in nothing at all according to New Labour, are understood to be on standby to take up front line operations.

They will undergo a two day course to enable them to function in the desert and win a war. The two day course starts at 09:00 on Saturday with trajectory lessons and continues with how to change a track on a tank and how to get sand particles out of camels hoofs.

Using their "red goddess" vehicles instead of tanks, they will learn how to race towards Iraqi lines and attempt to annoy the enemy into surrendering by making a lot of noise and spreading a foam blanket to confuse the enemy into thinking they are not in a desert but surrounded by snow.


When it was pointed out to Mr Blair that the bright red fire engines might make an easy target for enemy fire, Mr Blair said, "Never mind, we've got too many firemen er women er firefighters as it is... er, is that camera running?"

Asked for his comment, Britain's partner in the coalition in the war against Iraq, US President George W. Bush, said "Ooh, can I have a go on the siren and wear the yellow hat?"

John Prescott was asked to comment on the latest developments but as it was only 08:49 when the story broke we will have to get a response later today.

Ian Duncan Smith said at a New Conservative-Labour coffee morning that he thought all strikes should be banned. The reporter from the Daily Biased asked if that included air strikes and Mr Duncan Smith said he did not say 'all' strikes simply most of them some of the time maybe but only if a strike did not affect share prices.

In the latest development the HSE have indicated that they would broker a deal to ensure that if an Firefighter is shot they will be recorded as a 'major injury details to follow' to ensure the figures showing firefighting is a completely safe occupation remain uncontested.

As we went to press it was confirmed that the 55,000 full and part time firefighters will easily manage the role of 255,500 soldiers. It is reported that to manage this the firefighters will not actually fire any weapon or actually do any fighting. They will set up a loudspeaker system around the border of Europe and shout 'bang bang you're dead' very loudly and in an aggressive manner to scare the enemy off.

If it wasn't so serious a subject it would be funny.



---




Interview with Billy Bragg.

At Swan Theatre , High Wycombe

28th November 2002

(nb. billy bragg and the blokes invited the FBU to have a stall selling t-shirts, caps and handing out leaflets during their shows at basingstoke, high wycombe and london. In addition there was a video installation featuring fair pay campaign footage - the work of alan miles - FBU video film maker, raya crew and FBU members too numerous to mention)

q.

we are living in interesting times what do you think is going on with the fire fighters fair pay dispute?

a.

as far as I'm concerned the fire fighters represent all public service workers. the fact that they are on strike at the moment gives us a really important opportunity to discuss pay differentials in the public sector. It's an important issue because, unless we have this fight, unless we have this discussion, we're going to very soon find that we live in a society based purely on the american model of capitalism. where everything is up for sale, the bottom line is always profit and not service.

I think most people in this country would prefer to remain true to the founding principles of the welfare state, which we've all grown up with and which we've all benefited from. I think that's what the sub-text of this strike is all about. By putting the fire fighters pay under the microscope people can then see clearly how the public sector are treated.

q.

with just 45,000 members do you think the fire brigades union can win this dispute?

a.

it's true that the FBU is a small union by comparison to others. But what's important is that you're absolutely solid. You're out. There's a tiny few scabbing, a tiny minority crossing picket lines. There's none of the terrible scabbing that we saw during the miners strike for example. The fact that you are so solid, it's all legal and above board, there's no argument about if you should have gone out or not. And you're all right behind the leadership.

I think you have every chance of coming away with a result.

q.

why is it important for you to "politicise" your music and culture?

a.

my experience as a performer is rooted in the industrial struggles of the nineteen eighties, particularly the miners strike. And for a large segment of my audience that struggle is still very, very important. So we can sing a song like "there is power in a union" every night and the audience will cheer it to the rafters, but political music is nothing without context.

So when the FBU are out on strike, or more importantly when there's members of the FBU actually present at the gig, physically in the room with us, it really does supercharge the event. The audience realise they have an opportunity to express their solidarity with the FBU and the strikers, and it lifts them up. We've had some great nights already where fire fighters have been at the gigs.

Yeah, we do help as an audience by providing support to the fire fighters when they come to our shows and we hope they go away uplifted. But they are also inspiring us, they are also reminding us of why we got involved in the struggle in the first place. Reminding me of why I first felt inspired to write songs like "power in a union".

Political parties change, we know that, we've experienced that at our cost. But I find that when workers are organised, whether if it's here in the uk, the USA, australia… anywhere around the world, people are fighting for the same things. Their jobs, their families and their community's…. grass roots issues. I find myself being true to that rather than anything else.


My slogan is "neither new labour, nor old labour, but organised labour"

nb. near verbatim borrowed from an interview filmed by RAYAVISION



---


a report back on london region Fire Brigades Union benefit event acton town hall.

friday night was like being transported back to the 70's....................in a
militant stylee. The visuals went down really well with the audience. Mark Steel
made a complimentary comment about them at the end of his act.
a 1000 people rocked the town hall when joe strummer was joined on stage by mick
jones and played 'london's burning'.............

many people payed us positive comments about our imagery.............. a good night!
Next week its Swansea for the Video activist festival organised by Undercurrents
and Beyond TV, where our video 'war' finishes the afternoon session.
busy times ahead


---


Date Published: Monday 11 November 2002

Talks fuelling the fire for strike action

FIREFIGHTERS are getting more annoyed and the number of potential strikers around Basingstoke is growing as Wednesday's deadline for industrial action draws nearer, a union representative has said.

Fire Brigades Union leader Andy Gilchrist has twice postponed strike action so far while he talks to the service employers, but no compromise has been reached.

Unless he is happy with a pay offer expected tomorrow, he has pledged that firefighters will strike for 48 hours from 6pm on Wednesday.

Basingstoke union member Simon Green told The Gazette the stalling, accompanied by a lack of agreement with employers and concerns about hostility from the national media, has strengthened the pro-strike lobby.

He said: "It's going to be an angry dispute, and it's going to be a long-term thing. We're getting ready for battle." Union members have planned a meeting at Basingstoke station for 5pm on Wednesday to bring the branch together to answer any queries at the last minute.

"The branch meeting will walk out on the pavement and then the oncoming watch will walk out at one minute past six," said Firefighter Green.

Basingstoke's FBU spokes-man Lud Ramsey explained that there has to be action on Wednesday if the union does not accept the employers' offer.

The FBU has asked for a 40 per cent pay rise, and have rejected a four per cent offer from their employers. "It's the 28-day rule," he said. "If we don't go out on Wednes-day, we will have to re-ballot our membership."

He added: "The employers will have to come up with something over 20 per cent for us to even think about looking at it.

"We are ready now. We have had our ups and downs, but now we feel the time's come. The feeling in Basingstoke is that everyone is raring to go."




---


Dedicated To Bob Miller's Family With Respect


When God Made Firefighters


When God was creating firefighters, he was into the sixth day of overtime when an angel appeared and said, "You're doing a lot of extra work on this one."


And the Lord said, "Have you read the specs on this order?


A firefighter has to wake up to a fire alarm


Go into burning buildings to rescue people and enter areas the normal person wouldn't go


It has to be willing to leave its family and put it's life on the line


Work to exhaustion and beyond and be ready for the next call


It has to have a strong commitment to a personal calling that places their lives in jeopardy every day


It has to be in top physical and mental condition at all times


Function on black coffee and half-eaten meals


Have a heart big enough to love members of the brotherhood world wide


And have a unity of purpose.
The angel shook its head slowly and said, "A heart that big... no way."


"It's not the heart that is causing me problems," said the Lord, "it's the extra hands and eyes a firefighter has to have."


"That has to be on the standard model?" asked the angel.


The Lord nodded.


"One pair of eyes that sees the whole situation"


"Another pair that sees what is ahead to be dealt with"


"A third pair to watch out for his brothers"


"And another pair here in front that can look reassuringly at an injured victim and say, 'You'll be alright' even when it knows it isn't so."
"Lord," said the angel, touching his sleeve, "rest and work on this tomorrow."


"I can't said the Lord. "I already have a model that can -"


"Carry a 190 pound victim out of a burning building"


"Has dedicated its life to helping people"


"And is willing to come to the aid of those threatened by the deadly force of fire."
The angel circled the model of the firefighter very slowly, "Can it think?" the angel asked.


"You bet," said the Lord.


"It can tell you the elements of a hundred fires, the victims and rescues, and the importance of fire safety.... and still keep its sense of humor."


"This firefighter also has phenomenal personal control. It can deal with fire scenes painted in hell, coax a trapped person or animal out of a burning building, and still go home and love its family."


"Being a firefighter is one of bravery, loyalty and devotion to public service. It is willing to put its life on the line every day to protect our homes and our loved ones from the devastating effects of fire, and sometimes, the honorable job of saving lives requires many firefighters to pay the ultimate price for their valour in the line of duty."


Finally, the angel ran a finger across the cheek of the firefighter. "There's a leak," the angel pronounced. "I told you that you were trying to put too much in this model."


"Thats not a leak," the Lord said, "it's a tear."


"What's the tear for?" asked the angel.


"It's for bottled-up emotions, for fallen comrades, for the victims and for total commitment to the communities they serve."


"You're a genius," said the angel.


The Lord looked somber. "I didn't put it there," he said.


Just thought this said it all.
With Respect
Lff Colin Wells (Thermal) - Northants Fire & Rescue Service



---

BASINGSTOKE GAZETTE ARTICLE // WRITEN BY CHARIS

FORTY firefighters walked out of Basingstoke fire station on Wednesday - sombre but determined to make their point during the first fire strike for 25 years.

Only two Blue Watch firefighters refused to take industrial action in the first strike shift - possibly enough to run a special equipment unit, but with many of the town's retained firefighters also supporting the whole-time union members, there was not enough back-up and the West Ham station shut down just after 6pm.

All the other watches at Basingstoke were similarly pro-strike, so it was down to the Royal Navy-manned Green Goddesses and breathing apparatus truck parked across the town at the police station to provide cover until the first 48-hour strike finishes tonight at 6pm.

Thankfully, Basingstoke was quiet during the first 14-hour shift, but the Hampshire and Isle of Wight control centre, run jointly by Royal Navy and senior fire officers, received 21 fire-related calls - including four malicious hoaxes in the first hour.

A Navy spokesman said: "This is very irresponsible. The Green Goddesses have got enough of a job without having to respond to calls that aren't genuine."

Only eight Green Goddesses and three retained teams were deployed in the two counties, and a fire spokeswoman said 14 calls were automatic fire alarms triggered off by the bad weather.

Sixteen firefighters stayed on the picket line in Basingstoke throughout the night, despite the wind and rain.

They maintained that taking strike action was the last thing they wanted, and that they have been forced into this action by an unfavourable Bain report, offering an 11 per cent pay rise instead of the 40 per cent they have been asking for.

Blue Watch Firefighter Chris Walsh said: "I am Basingstoke born-and-bred, and I have been a firefighter for 15 years. I never thought I would ever vote in favour of going out on industrial action, but I have had enough. It's taken a long time to come to this."

Firefighter Jim Hutchen said the pickets received several messages of support, gifts of food and £60 from friendly members of the public.

---

Interview with Simon Foster

Fire Brigades Union Member, Basingstoke Branch, Southern Region.

18th November 2002

q. How long have you been a fire-fighter on White Watch?

a.

About three years now. Served all my time at Basingstoke and enjoying the job, really enjoying it.

q. Before you joined, or shortly after, did you know much about the fire brigades union?

a.

We were advised to join the union during our initial recruit training and most did. I didn't really know a lot about the union until I arrived at my fire station. There was a lot going on at the time to do with the union. A lot of it was quite bad press, in Basingstoke especially, the only thing I knew, was that the union was being beaten down by the people in charge, up in the hierarchy, and the Hampshire union didn't seem very strong compared to other places in the country. That was what I was being told.


q. Now that you've been in our job for a while have you got an opinion on your conditions of service, on the general quality of fire cover, have you got a realistic impression of the fire brigade now?

a.

Well yeah, I really enjoy my job. Unfortunately, I don't get paid the sort of wages I deserve and a lot of people agree with me. It's the sort of job where you need to be active and all the rest of it and it can be hard and obviously it's dangerous. And so the pay has to reflect that. But we don't get paid enough and we haven't for a long time. Now the union has really grown in strength, you can see it on the watch. At Basingstoke Fire station on the whole. Everyone's talking about the union all the time, everyone's getting active and it's just improved more than one hundred per cent. Everyone's working with each other, the guys at Basingstoke especially, they've never been so united, they've never been so strong as a unit. It's impressed me how it's all come together in the last six months. It's really nice.

q. How do you see your future? How do you feel the fire service is going to develop in the next twenty five years?

a.

I'd like to think it's going to go well. And I'd like to think that we're going to get a decent wage to live on. However, I'm a bit apprehensive at the way the government is talking now, trying to make all these changes, when you read the Bain report it's not the way that fire fighters and the fire brigades union want this service modernised. It's not right.

q. Are you aware of the structure of Region 13? Do you think the dispute is being managed well and that you are getting the right information?

a.

I think the campaign in this region is being run well, we all know our local officials Lud Ramsey and Paul Norton who pass on the information. The regional web site is really helpful and good. We usually have someone log on each tour and show us the information. Dean Mills, the Regional Secretary, often comes down to visit which is good. However, he is the only guy that has been coming around to see us. It might be helpful if more people came and helped us to become educated on how the other aspects of the union are organised. Although with everything that's been going on for this past couple of months, everything's happened so quickly, I suppose it's not surprising that not many people have the time to come around. Hopefully the officials will keep it up and we'll keep being well informed.

q. If you had to write down three things that have inspired you during this fair pay campaign what would they be?

a.

The main thing is you've got to stand up for what you believe in. There are a lot of fire fighters who believe they are worth more than the pittance they are being paid at the moment. And, standing up as a union, we have made a difference and will continue to make a difference.

The other thing I'd say is don't believe everything you read in the press, don't believe everything you see on the telly, and don't believe everything that comes out of your countries leaders mouth. Because it's not all-true and in fact most of it is lies.

And the last thing I'd say is if you all stand together to be counted then they will have to count you. You can't just ignore thousands and thousands of people who all believe in the same thing.

"Together we are stronger"… as they say…. and that's definitely true.

nb. near verbatim borrowed from an interview filmed by RAYAVISION



---



fire brigades union southern region // whitchurch (FBU hampshire) campaign line established


an historic day in hampshire when the first retained station campaign line was
established.

fbu members in whitchurch had been supporting the fair pay dispute since the beginning. they have been hanging around the picket lines in basingstoke and andover, talking, communicating and growing in confidence by the day. they decided they'd had enough at at 2.30 wednesday 27 november 2002.

they set about getting organised... a shelter, hand painted signs and banners, flags, brazier, log book, picket arm bands, leaflets, tea, chairs, stickers, information from region. they asked us for support.

at 2.20 pm, we (delegates from basingstoke and andover fourteen in total, including retained and wholetime) met in the station car park and created a picket in about ten minutes flat. it was inspiring to see the flags hanging, the creative energy going into the construction (talk about team work - ed) and the toots of the horns beginning. everywhere we go there is massive public support. the four whitchurch members thanked us for our help. most of us had left the scene by 3.30 leaving the whitchurch picket "alone". it's going to be hard work staffing a line with four people - basingstoke and andover committed their support, keeping them stocked in leaflets, wood, you name it and extra people just get on the phone.

we filmed the whole thing on video, talked to the daily mirror on a mobile, did an interview with radio solent, dick (nuj reporter from the andover advertiser) turned up... the whitchurch crews had a high pressure media experieance and coped extremely well.

far from being split our union is united and growing in confidence and experience by the hour.


---

on the question of fire service modernisation from machv:


> Do you think that the Fire Service could do with modernisation in any
> form? Is this what part of the talks are about - how to modernise the
> fire service without it affecting the service?

answer from tim i-resign:

This one is easy: we need to create a race of completely autonomous
fire-fighting mecharobots, each one 20-storeys-tall and able to climb atop
the shoulders of its fellows to fight any fires that might break out high up
in the new breed of mile-high fullerene towers we should all be living in.
Flames would be extinguised with sprays of decombusting nanomachines and the
whole show would be powered by fusion, fuel cells and tiny fans that catch
the prevailing wind.


That's the sort of modernisation I'd be pushing for, not these
short-sighted, shallow-pocketed, penny-pinching Blairisms. I also have an
idea for replacing the ambulance service with a race of paramedic
mecharobots that would look like a cross between a stand-up fridge freezer
and a Saint Bernardised panda bear - patients would be licked back to life
by eager polymer tongues and then operated upon once the door on the
fridgelike unit had closed. But unlike a true fridge, the light inside would
actually come on when the door is closed, and hymns would play.


---
some meaningful things you could do to help the fire fighters win this dispute.
> check that your workplace has proper health and saftey arrangements in place for the duration of the fire fighters strike
> ensure your home is safer by servicing your smoke detector and rehearse an escape plan in the event of a fire
> add your name to the e-petition
http://www.30kfirepay2.co.uk/
> tell your consituancy MP you demand fair pay for fire fighters
http://www.faxyourmp.com
or write to his/her constituancy office
> bookmark
http://www.fbusouthern.co.uk/
for reliable and up-to-date information about this dispute
> send a message of support to your local fire station branch
> knock on your fire station door to get posters, stickers, t-shirts and up-to-date info
> display posters and stickers of support at your workplace / home
> download a screensaver and display it in your workplace
http://www.fbu.org.uk/
> invite a fire fighter to speak to your trade union branch meeting
> honk your horn when driving past a picket
> make a financial collection and donate it to your local FBU picket
> do not trust the propoganda put out by the government and media
> strike dates:
0900 hours Tuesday 29th October to 0900 hours Thursday 31st October (48 hours)
0900 hours Saturday 2nd November to 0900 hours Monday 4th November (48 hours)
0900 hours Wednesday 6th November to 0900 hours Thursday 14th November (8 days)
0900 hours Friday 22nd November to 0900 hours Saturday 30th November (8 days)
0900 hours Wednesday 4th December to 0900 hours Thursday 12th December (8 days)
0900 hours Monday 16th December to 0900 hours Tuesday 24th December (8 days)
> pass this list onto your family and friends
> UNITY IS STRENGTH ! ! ! ! ! ! ! ! ! ! ! ! !