sounds

Looking for details of our PROMO ONLY DJ Mix cds? Look HERE
raya's first compilation album, collectivism, available now!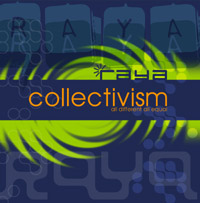 This compilation is a platform for all the artists that have contributed to Raya over the past 3 years. "Collectivism" is a celebration of the artists that have all played at the Raya residency at The Institute of Contemporary Arts (ICA). Time out called Raya "simply it's own thing and part of a new breed of nightlife events that fall between known worlds - gallery, disco, rave and installation - to make fresh ones".
Beginning with the beautiful contemporary classical of Abigail Hatherley and includes exclusive tracks from the likes of Tom Churchill (i-D magazine's DJ of the month, Jan 2000) & Big Chill co-founder Pete Lawrence (in his Chilled by Nature guise) and takes in all that's good about the current leftfield electronic scene. From the "beautifully fragile electronica" of CiM (Muzik) to the twisted breaks of Phantom Beats via the wigged out Joe Meek meets toy town sounds of the Friendly Scientist (NME single of the week) as well as the sublime dub house of Whistle Bump's Simon Haggis (KLaSH Productions).
i-D magazine said of Collectivism: "From the beguiling neo-classicism of Abigail Hatherley through the deep rollin' funk of KLaSH to the slo-mo sleaze of Les Elles, the radical Raya collective (including CiM, Pete Lawrence and Friendly Scientist) sure are a genre-hopping bunch. "All different, all equal" they say. All wicked, all fucking superb we say"
Click here to read the full press release ... or mail us for more information.